De
Rene Froger lookalike

- Biografie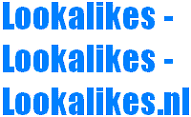 Duur:
30 minuten
Live:
Live
Gezien:

3740 keer

(info)
Prijs:
Vanaf:

Dit zijn richtprijzen. Prijzen kunnen afwijken!(bijv. Geluid / reiskosten wel / niet inbegrepen). Prijzen veranderen behoorlijk vaak. We kunnen niet altijd de meest actuele prijzen tonen. Voor een exacte prijsopgaaf voor een optreden van deze lookalike van Rene Froger(192) kunt u via de knop informatie, in het profiel van deze act, een bericht sturen.

Excl. 9% BTW
Deze Imitator heeft inmiddels al menigmaal opgetreden voor een groot publiek, waar hij "live´ de bekende nummers van Rene Froger met perfectie zingt .
In deze spectaculaire Live act brengt hij alle bekende hits als "Just say Hello", "This is the moment" en "Are you ready for loving me", met zang en beweging. Qua stem en show is deze Imitator nauwelijks te onderscheiden van de echte Rene Froger.

Wilt u deze Imitator met zijn swingende act en geweldig stemgeluid op uw feest?

This is the moment, boek hem!

Boekingen:

Snel informatie? Bel: +31(0)6-23930335
Direct mailen?
Klik hier!