De
Sting lookalike

- Biografie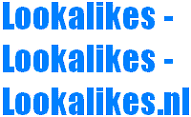 Duur:
30 minuten
Live:
Live
Gezien:

4419 keer

(info)
Prijs:
Vanaf:
Excl. 9% BTW
Deze Look & sound-a-like van Sting zingt alle grote hits uit zijn solocarriėre en classics van The Police. Roxanne, Message in a bottle, Every little thing she does is magic, Englishman in New York en Fields of gold staan op het repertoire met een hoog meezing "IJO" gehalte. Met zijn ijle hoge stemgeluid is deze sound-a-like bijna niet te onderscheiden van de (ex)meester.
Stings carriėre bestrijkt nu zo"n 35 jaar daardoor zijn hele generaties zijn opgegroeid met zijn wereldhits. Deze Look a Like is net als Sting een doorgewinterde muzikant. Zo speelt hij bas en Spaanse gitaar mee, zoals met die prachtige gitaarsolo in het gevoelige Fragile.

Snel informatie? Bel: +31(0)6-23930335
Direct mailen?
Klik hier!