De
Johnny Depp lookalike

- Biografie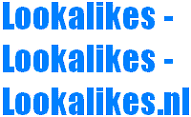 Duur:
1 uur
Live:
n.v.t.
Gezien:

4166 keer

(info)
Prijs:
Vanaf:

Dit zijn richtprijzen. Prijzen kunnen afwijken!(bijv. Geluid / reiskosten wel / niet inbegrepen). Prijzen veranderen behoorlijk vaak. We kunnen niet altijd de meest actuele prijzen tonen. Voor een exacte prijsopgaaf voor een optreden van deze lookalike van Johnny Depp(250) kunt u via de knop informatie, in het profiel van deze act, een bericht sturen.

Excl. 9% BTW
Deze look a like was op vakantie in Portugal en van alle kanten kwamen mensen vragen of ze met hem op de foto mochten. Er ging een gerucht dat Johnny Depp in Portugal was, maar dat was deze look a like.
Johnny Depp zijn vertolking van Jack Sparrow heeft hem verheven naar een supersterren status.

Deze lookalike is bijna niet te onderscheiden van het orgineel.

Een geweldige lookalike voor op de rode loper of media-stunts.

Boekingen:

Snel informatie? Bel: +31(0)6-23930335
Direct mailen?
Klik hier!
Keywords:
Johnny Depp
,
Look a Like
,
Jack Sparrow
,
Bioscoop
,
Film
,
Opening
,
Hollywood
,
Meet and Greet
,
Fotoshoot
,
Reclame
,
Premiere
,
Rode Loper
,
Mode
,
Angelina Jolie
,