De
The Andrews Sisters lookalike

- Biografie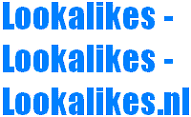 Duur:
30 minuten
Live:
Live
Gezien:

723 keer

(info)
Prijs:
Vanaf:

Dit zijn richtprijzen. Prijzen kunnen afwijken!(bijv. Geluid / reiskosten wel / niet inbegrepen). Prijzen veranderen behoorlijk vaak. We kunnen niet altijd de meest actuele prijzen tonen. Voor een exacte prijsopgaaf voor een optreden van deze lookalike van The Andrews Sisters(261) kunt u via de knop informatie, in het profiel van deze act, een bericht sturen.

Excl. 9% BTW
Kom direct in de sfeer van de 40-er jaren met deze 4 dames, die met hun geweldige stemmen de nummers van The Andrews Sisters vertolken.
Songs als "Boogie Woogie Bugle Boy", "Bei mir bist du schön", "Rum & Coca Cola" passeren de revue.
En wat dacht u van "In the mood"?

Ook het wereldberoemde "We´ll meet again" van Very Lynn wordt vertolkd.
Bent u al "in the mood?"

Niet verder zoeken, u krijgt precies wat u zoekt.


Boekingen:

Snel informatie? Bel: +31(0)6-23930335
Direct mailen?
Klik hier!