De
John Fogerty (CCR) lookalike

- Biografie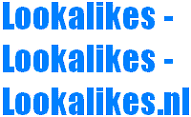 Duur:
+/- 45 minuten
Live:
Live
Gezien:

2463 keer

(info)
Prijs:
Op

aanvraag

De prijs van deze act is op aanvraag, via de knop informatie, in het profiel van deze act, kunt u ons een bericht sturen.
In 1999 richtte deze imitator van John Fogerty de Creedence Clearwater Revival-tribute-band "Clearwater" op. Tot 2016 verzorgde de band jaarlijks talrijke optredens in heel België en Nederland maar ook in Duitsland en Zwitserland.
Hoogtepunten voor Nederland waren het optreden in een overvolle megatent op het Zwarte Cross Festival voor maar liefst 15.000 aanwezigen, Arrow Classic Rock, het TT-festival te Assen en andere grote festivals waar zij samen met bekende nationale en internationale artiesten de affiche mochten delen.

Vanaf 2017 is deze imitator solo te boeken met een Best of Creedence Clearwater Revival live-act. Al de grootste hits passeren de revue in een wervelende show van 45min. Met z´n typische John Fogerty-stemkleur en dankzij professionele geluidsbanden is het beleven van een optreden met je ogen dicht net alsof je de echte band aan het werk hoort, de spirit of Creedence Clearwater is Back!

Boekingen:

Snel informatie? Bel: +31(0)6-23930335
Direct mailen?
Klik hier!