De
Tom Jones lookalike

- Biografie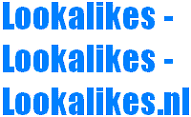 Duur:
30 minuten
Live:
Live
Gezien:

2652 keer

(info)
Prijs:
Vanaf:

Dit zijn richtprijzen. Prijzen kunnen afwijken!(bijv. Geluid / reiskosten wel / niet inbegrepen). Prijzen veranderen behoorlijk vaak. We kunnen niet altijd de meest actuele prijzen tonen. Voor een exacte prijsopgaaf voor een optreden van deze lookalike van Tom Jones(32) kunt u via de knop informatie, in het profiel van deze act, een bericht sturen.

Excl. 9% BTW
Een meeslepende LIVE act waarbij de bekendste nummers van de legendarische Tom Jones de revue passeren. Wie kent ze niet De lekkere dansbare nummers als..Its not unusual, she´s a lady, Sexbomb, Kiss, Delilah, Whats new pussycat, Love me tonight, en de heerlijke ballads zoals the green green grass of home, With these hands, fall in love, at this moment. Dit zijn enkele nummers uit het repertoire wat gebracht zal worden tijdens de show. De show duurt 30 minuten maar een toegift kan natuurlijk altijd !!
Er zijn weinig zangers in Nederland met een dergelijk stembereik als die van Tom Jones. Van zeer laag tot zeer hoog en dan ook nog met het zelfde timbre waarin Tom Jones zijn nummers ten gehore brengt. Deze Look a Like haalt dit schijnbaar moeiteloos waardoor het verschil tussen de echte Tom en de Look a Like bijna wegvalt.
Op de kleinste details is tot in perfectie gelet..Uiteraard in de zang maar ook in de bewegingen, de kleding, maar ook het bijvoorbeeld het typerende kapsel.. De pruik is handmatig gemaakt door Rob Sweers welke o.a. alle haarstukken van de Soundmixshow heeft vervaardigd.
De show is inzetbaar op tal van evenementen of themafeesten zoals Las Vegas of Hollywood party´s maar ook gewoon lekker als act tussendoor want stilzitten is met " Tom" niet mogelijk !!

Boekingen:

Snel informatie? Bel: +31(0)6-23930335
Direct mailen?
Klik hier!