De
Joe Cocker lookalike

- Biografie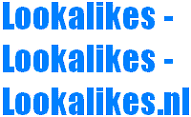 Duur:
30 minuten
Live:
Live
Gezien:

2726 keer

(info)
Prijs:
Vanaf:

Dit zijn richtprijzen. Prijzen kunnen afwijken!(bijv. Geluid / reiskosten wel / niet inbegrepen). Prijzen veranderen behoorlijk vaak. We kunnen niet altijd de meest actuele prijzen tonen. Voor een exacte prijsopgaaf voor een optreden van deze lookalike van Joe Cocker(38) kunt u via de knop informatie, in het profiel van deze act, een bericht sturen.

Excl. 9% BTW
The Dutch Joe Cocker, de nederlandse Joe Cocker, raakt na het zien van Joe Cocker in Woodstock (The Movie, 1969) in de ban van deze topartiest. Vanaf dat moment volgt hij zijn carriëre nauwlettend en al gauw creëert hij zijn eigen imitatie: de Joe Cocker act.
Eerst nog geheel playback, maar al snel live. Een tape optreden of live met een orkest is beiden mogelijk. Tijdens een een feestje, waar ook enkele musici aanwezig zijn, ontstaat een jamsession en de "Joe Under Cover Band" is een feit. De band speelt haar eigen muziekbanden in en de "Joe Cocker" Look a Like zingt live.

De nederlandse Joe Cocker verrast zijn fans met een nauwgezette weergave van de persoonlijkheid, de muzikaliteit en de presentatie van zijn idool. Bovendien is hij ook uiterlijk een ware dubbelganger van Joe Cocker, iets dat de fans van de beroemde zanger tijdens zijn concerten, die hij ook regelmatig bezoekt, vaak in verwarring brengt. Met zijn succesvolle act is hij een graag geziene gast tijdesn evenementen, maar ook in vele theaters, zalen en kroegen.

Een optreden tijdens het Rotterdams Songfestival levert een eerste plaats op in zijn categorie, tevens eindigt hij tweede overall. Als hij het podium betreedt staan zelfs de meest verstokte fans van Joe Cocker versteld van de verbluffende gelijkenis met hun favoriet en van de perfecte sound en performance van deze talentvolle zanger. Zo behaalde The Dutch Joe Cocker eind september 2005 ook een wel verdiende finaleplaats in het soundmixprogramma "In de huid van..." van Talpa.

Boekingen:

Snel informatie? Bel: +31(0)6-23930335
Direct mailen?
Klik hier!