De
The Adams Family lookalike

- Biografie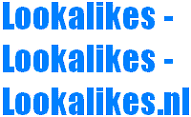 Duur:
Live:
n.v.t.
Gezien:

3340 keer

(info)
Prijs:
Op

aanvraag

De prijs van deze act is op aanvraag, via de knop informatie, in het profiel van deze act, kunt u ons een bericht sturen.
Wie kent deze beruchte horrorfamilie niet? Dit zijn de perfecte Look a Likes.
Zij met haar lang zwart haar, bleke teint een pas geboren baby (en wat voor één?) in de armen. Hij met zijn golfclub in de hand.
En in zijn andere hand "Hand". Jaja de loslopende hand uit de film is er ook bij.
Je hebt het zoontje met zijn bom, je hebt het dochtertje dat aan iedereen vraagt of ze hun vinger mag afkappen. Of misschien komt de grootmoeder ook mee!
De butler die het dochtertje begeleidt en natuurlijk Fester. De kale broer uit de familie.
De gelijkenis is groot en het publiek geniet van de kleine grappige horror-dingen die gebeuren.
Kortom de Adamsfamily is meer dan zomaar een Look a like act. Het is puur genieten van wat er allemaal gebeurt!


Boekingen:

Snel informatie? Bel: +31(0)6-23930335
Direct mailen?
Klik hier!