De
The Village People lookalike

- Biografie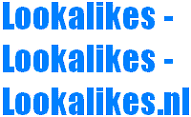 Duur:
1x 30 minuten
Live:
Live
Gezien:

4040 keer

(info)
Prijs:
Vanaf:
Excl. 9% BTW
bent u op zoek naar een opzwepende, feelgood disco-act? Dan zijn de mannen van "Net als... The Village People" de disco-toppers die u zoekt!
Net als... The Village People doet de sfeer van de legendarische studio 54 in new York herleven. Met hun uptempo medleys van wereldwijde number-1 hits zorgen de mannen voor een geweldige disco-party. al hun nummers zijn opnieuw gearrangeerd, met moderne samples en beats van nu. Het repertoire van deze dynamische show is breed, van de Beegees tot Donna Summer, van the Jackson 5 tot aan James Brown; you name it.

Disco is de inspiratie voor veel hedendaagse artiesten en deze act vliegt door de disco-billboard met de meest herkenbare nummers om lekker mee te kunnen zingen en dansen. Als kroon op hun show brengen de mannen een geheel moderne versie van YMCA ten gehore, gegarandeerd dat daarbij handen de lucht ingaan.

Deze glamrock-act trad niet alleen in Nederland, maar ook met veel succes op in Berlijn, St. Tropez, Wenen, London en Moscow.
So, Get your booty on the dancefloor!

Snel informatie? Bel: +31(0)6-23930335
Direct mailen?
Klik hier!