De
The Blues Brothers lookalike

- Biografie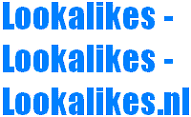 Duur:
30 minuten
Live:
Live
Gezien:

13305 keer

(info)
Prijs:
Vanaf:
Excl. 9% BTW
Al meer dan 12 jaar scheuren deze 2 gabbers, de lookalikes en imitators van Joliet Jake Blues & Elwood Blues, met hun "Blues mobiel" en een waanzinnige live-act door het gehele land.
Deze Blues Brothers lookalikes en imitators "are on a mission from God!!" Deze Elwood-brothers zullen er zorg voor dragen, dat u de Blues nooit zult vergeten!!

Het voor iedereen zeer herkenbare duo, zetten een uitermate indrukwekkende Blues Brothers live-act voor neer, die zeer geschikt is voor allerlei gelegenheden o.a. bruiloften, evenementen, Back to the 80 party´s, personeels en/of bedrijfsfeesten, etc etc.
Zij traden onder andere op in Hotel Krasnapolsky, het PSV Stadion, Theater de Weijer in Boxmeer, het Heineken Expierence Amsterdam, de Amsterdamse Rai en wellicht staan zij binnenkort op uw feest.

Hun 30 minuten set bestaat uit:
1 Intro
2 Everybody need somebody
3 Soulman
4 She caught The katy
5 Flip Flop Fly
6 Almost
7 Shake youre tailfeather
8 Shotgun Blues
9 Jail house Rock
10 Outro

Neem voor exacte prijsinformatie of boekingen contact met ons op!

Snel informatie? Bel: +31(0)6-23930335
Direct mailen?
Klik hier!