De
Neil Diamond lookalike

- Biografie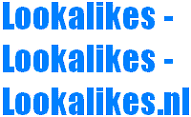 Duur:
30 minuten
Live:
Live
Gezien:

1226 keer

(info)
Prijs:
Vanaf:

Dit zijn richtprijzen. Prijzen kunnen afwijken!(bijv. Geluid / reiskosten wel / niet inbegrepen). Prijzen veranderen behoorlijk vaak. We kunnen niet altijd de meest actuele prijzen tonen. Voor een exacte prijsopgaaf voor een optreden van deze lookalike van Neil Diamond(257) kunt u via de knop informatie, in het profiel van deze act, een bericht sturen.

Excl. 9% BTW
De Nederlandse Neil Diamond is vanaf zijn 18e jaar geïnspireerd door Neil Diamond en weet dat gevoel in zijn stem en performance te leggen met zijn warme stem en de juiste uitstraling. Deze look a like neemt u terug naar de glorietijd van Neil Diamond in de jaren 70.
Hij neemt u mee in de emotie van nummers "Sweet Caroline", "Girl, You´ll Be A Woman Soon", "Solitary Man", "I Am´I Said", "Cracklin´ Rosie" en vele anderen.

Deze Neil Diamond Tribute weet als geen andere een gevoelige snaar te raken bij mensen die de muziek van Neil waarderen, maar ook mensen die weinig van Neil Diamond kennen zullen aangenaam verrast zijn door de songs die hij ten gehore brengt.

Ook zoekt hij interactie met het publiek. Deze imitator treedt op in de stijl zoals we Neil Diamond kennen, met zijn prachtige overhemden uit de 70´s en zijn flinke haardos.

Keer terug in de tijd naar de jaren 70, en laat u meeslepen door de sfeer en de hype van toen. Geniet van de mooiste ballads en de opzwepende songs. Deze look a like begeleidt zichzelf op gitaar en/ of met een orkestband.


Boekingen:

Snel informatie? Bel: +31(0)6-23930335
Direct mailen?
Klik hier!
Keywords:
Neil Diamond
,
Look a Like
,
Imitator
,
Sweet Caroline
,
Song Sung Blue
,
Festival
,
Verjaardag
,
Bruiloft
,
Sixties
,
Seventies,