De
Boy George lookalike

- Biografie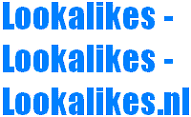 Duur:
20 minuten
Live:
Live
Gezien:

5415 keer

(info)
Prijs:
Vanaf:
Excl. 9% BTW
The Dutch Boy George startte zijn carriere in 1987 met een deelname aan de soundmixshow. Sindsdien is hij niet meer weg te denken op de Nederlandse en Internationale podia.
The Dutch Boy George lijkt niet alleen sprekend, ook zijn stem is werkelijk zodanig lijkend dat Boy George zelf zeer onder de indruk is van deze act.

Inmiddels heeft The Dutch Boy George zijn act verder verfijnd en wordt hij alom geprezen om zijn werkelijk perfecte live imitatie.

In een 20 minuten durend optreden zingt The Dutch Boy George de bekendste hits van Culture Club en zet hij keer op keer een groot feest van herkenning neer. Met nummers als: Do you really want to hurt me, It´s a miracle, Karma Chameleon, Victims en I just wanna be loved worden de jaren 80 weer tot leven gebracht.

The Dutch Boy George is de onmisbare schakel op (jaren 80) evenementen, discotheken, festivals en clubs.

Snel informatie? Bel: +31(0)6-23930335
Direct mailen?
Klik hier!