De
Cher lookalike

- Biografie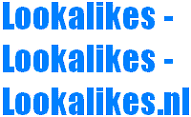 Duur:
30 minuten
Live:
Live
Gezien:

7544 keer

(info)
Prijs:
Vanaf:
Excl. 9% BTW
The Dutch Cher was te zien bij Talpa, tijdens de hoogtepunten van "In de huid van". Met het nummer "Strong enough" wist zij met ruime voorsprong winnares van het programma te worden.
Een optreden van " The Dutch Cher", is zeer geschikt als "special-act" halverwege een feest, om de stemming te verhogen, of als "suprise- act als afsluiter van een spetterende avond. Ook als "Look a Like" gezien de Life- gezongen nummers, een zeer professioneel optreden. Aangezien deze zangeres bij velen leeftijdsgroepen bekend is( haar eerste nummers uit de jaren 60, tot haar laatste CD van 2001) zal deze act door vele mannen, en vrouwen gewaardeerd worden. Door haar jarenlange ervaring als zangeres, en entertainer, heeft zij een "Dutch Cher" weten te creŽren, waar het plezier, en de vakkundigheid vanaf straalt!

Snel informatie? Bel: +31(0)6-23930335
Direct mailen?
Klik hier!