De
Tina Turner lookalike

- Biografie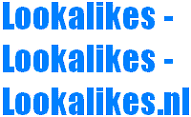 Duur:
30 minuten
Live:
Live
Gezien:

2732 keer

(info)
Prijs:
Vanaf:

Dit zijn richtprijzen. Prijzen kunnen afwijken!(bijv. Geluid / reiskosten wel / niet inbegrepen). Prijzen veranderen behoorlijk vaak. We kunnen niet altijd de meest actuele prijzen tonen. Voor een exacte prijsopgaaf voor een optreden van deze lookalike van Tina Turner(165) kunt u via de knop informatie, in het profiel van deze act, een bericht sturen.

Excl. 9% BTW
De Tina Turner Tribute was een logisch gevolg van haar overwinning in de soundmixshow van 2001. Hoe ging dat ook al weer? Voor de liefhebbers, klik
hier
en zie zelf hoe zij de harten van kijkend Nederland wist te veroveren.
The Hits of the sixties
Tijdens de ongeveer 30-35 minuten durende show komen uiteraard alle grote hits van de Queen of Rock voorbij. De bekende "oudjes", zoals "River deep, mountain high", "Nutbush city" en "Proud Mary" worden door haar met net zo veel vuur gebracht als dat Tina dat in de jaren 60 deed.

The Hits of the eighties
Ook de hits die Tina tijdens haar come back in de tachtiger jaren scoorde worden gebracht. Meest bekend is natuurlijk "The Best", welke Mary in 2001, na de kampioenswedstrijd tegen Heerenveen, in een vol PSV stadion mocht zingen.

Boekingen:

Snel informatie? Bel: +31(0)6-23930335
Direct mailen?
Klik hier!