De
Amy Winehouse lookalike

- Biografie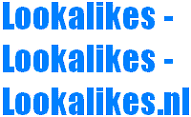 Duur:
30 minuten
Live:
Live
Gezien:

8949 keer

(info)
Prijs:
Vanaf:
Excl. 9% BTW
Wanneer deze look a like als Amy Winehouse op het toneel verschijnt, staat de jury perplex. Het lijkt wel de identieke tweelingzus van het Britse fenomeen.
Deze dame heeft dan ook overal aan gedacht: van een drankje in de hand tot perfecte tatoeages en make-up. Het was dan ook geen verrassing dat deze look a like met haar imitatie de finale haalde Ún won van "My Name Is... 2010".

Tegenwoordig is deze look a like van Amy Winehouse een veel geboekte artiest en treedt ze over de hele wereld op, en zelfs voor Madonna.

Setlist:
* You know I´m no good
* Valerie
* Wake up alone
* Me and Mr. Jones
* Rehab
* Love is a losing game
* Back to black

Overige nummers zijn op aanvraag ook mogelijk, mits tijdig aangegeven.

Snel informatie? Bel: +31(0)6-23930335
Direct mailen?
Klik hier!